Hot and Cold Aisle Containment Solutions
Data Center Resources provides Hot Cold Aisle Containment Solutions, Air Sealing Products and Installation for small and large data centers.
Our hot and cold aisle containment system has evolved over the course of helping hundreds of customers get the most out of their cooling infrastructures. Every project we have completed has been unique and many have presented new challenges. Many of these projects require customized solutions, therefore extending the capabilities of the product line. Our proprietary containment channels are the heart of our system. Each of our profiles consist of a unique combination of threaded and slotted sides to provide a seemingly endless number of applications and configurations. In addition, the design allows for great adaptability in mounting to a HAC or CAC system, the ceiling, strut channel, support beams, cable trays, threaded rod, concrete ceiling or just about anything.
The Cool Shield Aisle Containment System
Cool Shield is the most versatile aisle containment system to help both new and existing data centers increase cooling efficiency.
A variety of flexible strips and solid panels are used to create an aisle containment solution tailored to each project. This versatility allows us to meet nearly any specification including temperature rated drop panels, sliding panel systems, fusible link options and FM Global 4910 requirements. In addition to being highly functionality and customizable, Cool Shield is extremely cost competitive compared to other aisle containment systems.
Hot vs. Cold Aisle Containment
Today's data centers require massive amounts of cooling and power. Above all, the decision to choose Hot or Cold aisle containment is largely dependent on your site requirements and equipment needs.
Cold Aisle Containment
Cold aisle containment isolates the supply airflow from cooling units to create a uniform and highly controllable temperature at the server intake.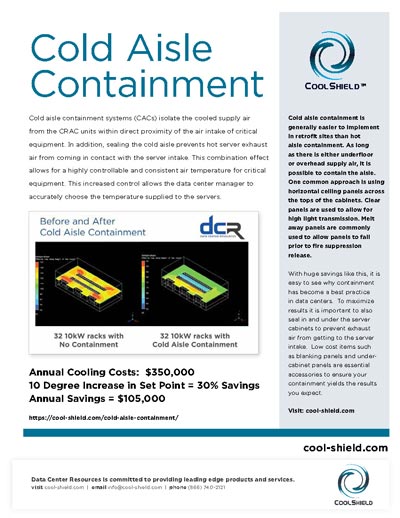 Cold aisle containment systems (CACs) allows for all of the cooled supply air from the CRAC/CRAH units to be in direct proximity of the air intake of critical equipment. In addition, sealing the cold aisle prevents hot server exhaust air from re-circulating around to the server intake. As a result, this combination allows for precise control of the cold aisle air temperature. Most noteworthy, increased control allows the data center manager to optimize the set point temperatures from cooling units.
Hot Aisle Containment
Hot aisle containment channels the server exhaust air directly to the AC return unit. Channeling the exhaust air prevents hot air from affecting the rest of the room.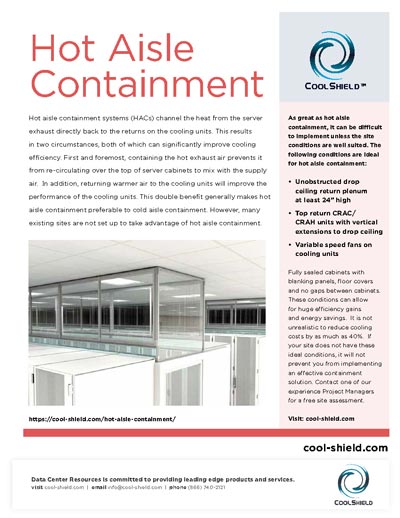 Hot aisle containment systems (HACs) bring server exhaust directly back to the returns on the cooling units. This results in two circumstances, both of which can significantly improve cooling efficiency. First and foremost, containing the hot exhaust air prevents it from re-circulating over the top of server cabinets and mixing with the supply air. Furthermore, returning warmer air to the cooling units will improve the performance of the cooling units. As a result, this double benefit generally makes hot aisle containment preferable to cold aisle containment. Consequently, many existing sites are not set up to take advantage of hot aisle containment.
Connect With Us
Follow us to see blog updates, industry news, new feature launches and glimpses into the culture and activities at Data Center Resources.
Need a quote or more information?