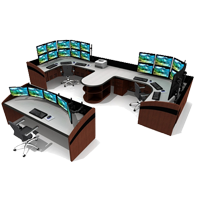 ATLANTA, Ga – (PR Web) – Data Center Resources, LLC, a leading supplier of products and services related to data center power, cooling and monitoring, announced today the completion of a new web site dedicated to their highly successful Command Watch custom console and accessories product lines. DCR collaborated with Steven Sieja Creative to bring a modern and impactful design to the new website. The new site provides a more extensive overview of the configurations, capabilities and unique functionality of the Command Watch product line than is feasible on the main company web site.
"Command Watch has evolved so much over the past few years that we felt the larger platform of a dedicated web site was necessary to properly convey the breadth of options that are now available." says Data Center Resources co-founder, Rick Berendes. "Each of our well over 100 installations has been unique and many featured challenges which have allowed us to expand the functionality of the product. Our intention is to highlight this exceptional versatility in the new web site."
Several new configurations are featured which address current trends in the network operations center marketplace. For example, there are Sit/Stand solutions for Command Watch Adjustable and Command Tech Adjustable in which one can raise or lower the work surface with the push of a button. All of the Command Watch products feature the unique Slatwall Cube. This proprietary slat wall is the most versatile solution in the industry for mounting operator monitors, large displays and accessories. The 3" x 6" block design also provides unparalleled strength and durability. Command Watch accessories such as Monitor Arms, Task Lighting, 7×24 Operator Seating, Matrix Data Walls and Large Display Mounts allows for a fully integrated control room solution.
The web site is targeted to personnel at network operation centers, 911 call centers and data center managers looking to improve the efficiency and rigorous demands of a 7×24 environment but not at the expense of style and aesthetics. The Command Watch console line is designed around flexibility. Numerous straight and corner module options allow for extreme configurability to optimize usable space within the room and maximize operator productivity. Response forms are available for site users to submit information on a project to receive customized design suggestions, drawings and budgetary pricing.
About Data Center Resources
Data Center Resources, LLC is a leader in providing power, cooling and monitoring products and services for the critical data center and IT spaces. The company develops unique proprietary solutions and also serves as a direct distributor for many of the industry's largest manufacturers. Customers include the federal government, state and local agencies and many of the world's largest corporations.
Press Contact:
Justin Tocco
404-888-0803
justint@datacenterresources.com
www.command-watch.com // www.datacenterresources.com