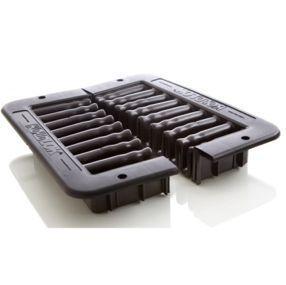 Data Center Resources, LLC, a leading supplier of products and services related to data center power, cooling and monitoring, announces the KoldLok Wave as part of their IT and Data Center cooling accessories. The KoldLok Wave grommet is specifically designed to limit bypass airflow by effectively sealing the openings in raised floor systems prior to the installation of communications, power, or other cabling.
"The KoldLok Wave allows for greater IT density in data centers", says Data Center Resources co-founder, Rick Berendes. "Our product increases cooling unit effectiveness and improves cool air delivery through perforated tiles and floor grates".
In a study done by Upsite Technologies on 19 computer rooms totaling over 204,400 feet, it was found that 60% of valuable cooled air is not reaching the air intakes of IT equipment. The KoldLok Wave was developed to provide the best seal against this wasted airflow. The patent-pending wave shaped thermoplastic elastomer offers the best sealing against bypass airflow, unsurpassed by any brush grommet on the market.
There is 45.5 sq. inches of usable cable area, over two and half times that of a leading brush competitor. The split design allows edge cut tiles to be removed without capturing cables. The KoldLok Wave is fire resistant and has a durable, impact-resistant ABS frame. Our product also meets a prerequisite for hot aisle/cold aisle best practices and containment strategies.
"Not only is our KoldLok Wave a high-quality and affordable solution, it reduces the need to buy additional cooling units", says Berendes. An optional cover is available to ensure greater safety before rack and cable installation. DCR's KoldLok Wave is inventoried and can often ship the same day. Please contact Data Center Resources for product details and pricing.
About Data Center Resources
Data Center Resources, LLC is a leader in providing power, cooling and monitoring products and services for the critical data center and IT spaces. The company develops unique, proprietary solutions and also serves as a direct distributor for many of the industry's leading manufacturers. Customers include the Federal government, State and local agencies as well as many of the world's largest corporations.
Press Contact:
Mike Uchida
404-500-3459
mikeu@DataCenterResources.com
www.datacenterresources.com
www.cool-shield.com