What Are Strip Door Curtains?
Strip door curtains can be an essential component of temperature control in data centers. These flexible partitions assist with aisle containment, which is responsible for keeping data center facilities cool. Servers and computers generate a lot of excess heat that, left unmanaged, would cause the internal temperature of the workspace to exceed that of the employees' comfort levels. Containing this additional heat is a vital necessity for any size data center.
In the past, strip curtains were made of thick but flexible PVC, which was inexpensive and easy to fit around objects or console furniture. Today, however, modern fire-rating standards require thinner, higher-rated strips. A common problem with thinner plastic strips is that they can easily separate in facilities with varying air pressure. But there are ways to address this issue. The Data Center Resources line of strip curtains integrates magnets and weights to limit separation, creating a wall of air-blocking containment while significantly reducing air leakage.
A key feature of strip door curtains is that they can be customized to fit the needs of any space within a data center. Since they are flexible, adjustable, and low-profile, they can be added to most existing aisle containment configurations to reduce leakage.
In addition, strip door curtains can also help maintain a safer working environment. Not only do the curtains control temperature but they also keep humidity levels down and assist with keeping dust, debris, and other contaminants out of critical areas where they could cause harm to electronics. And since the curtain strips are made of fire-rated plastic, they are durable and easy to clean.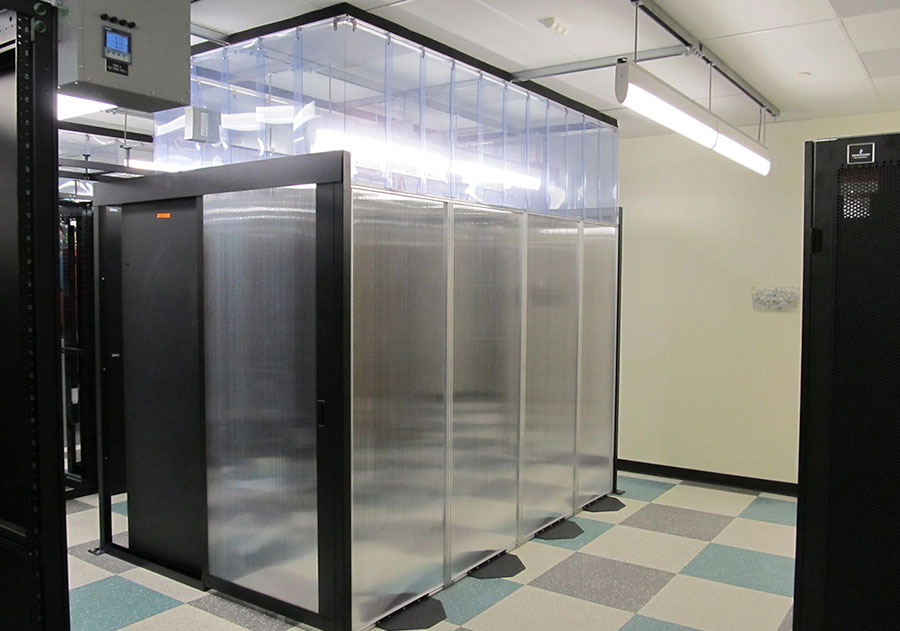 Air Leakage Increases Energy Costs in Data Centers
Air leakage has always been a significant problem in data centers, especially in facilities that require precise environmental control in their day-to-day operations. Removing the hot air produced by energy-intensive electronics like servers is vital to the existence of most data centers.
When hot air leaks and escapes back into a data center, the facility's cooling systems have to work extremely hard to maintain the desired temperature and reduce the amount of humidity that may also be present. As a result, energy consumption increases and leads to higher costs, and there is potential for an overall reduction in performance as conditions are not ideal.
Facilities with air containment issues may unintentionally create hot spots where the temperatures exceed safe operating temperatures for electronic devices, which can cause damage to hardware and lead to costly downtime.
Strip Door Curtains Are Vital For Aisle Containment
Most modern data centers have some sort of aisle containment solution in place to maintain interior temperatures. Aisle containment isolates hot and cold air streams within a critical facility, keeping temperatures at nominal levels. While there are varying configurations depending on the needs of the facility (hot aisle containment vs. cold aisle containment), strip door curtains can be used in almost every instance.
Adding strip door curtains or replacing outdated ones can have an immediate impact on the amount of energy required to cool the facility each month. With the regular increases in energy prices each year, eliminating the need to run additional air conditioning units adds up to substantial cost savings.
Aside from their energy-saving benefits, strip door curtains are a relatively inexpensive solution. Building an enclosed containment room would involve the costs of a custom design, materials, professional installation, and potentially adding raised floor tiles (for optimal air circulation). Strip curtains, on the other hand, can fit any size space (taking into account specific requirements), can be installed by anyone, and cost a fraction of what it would be to build a contained room.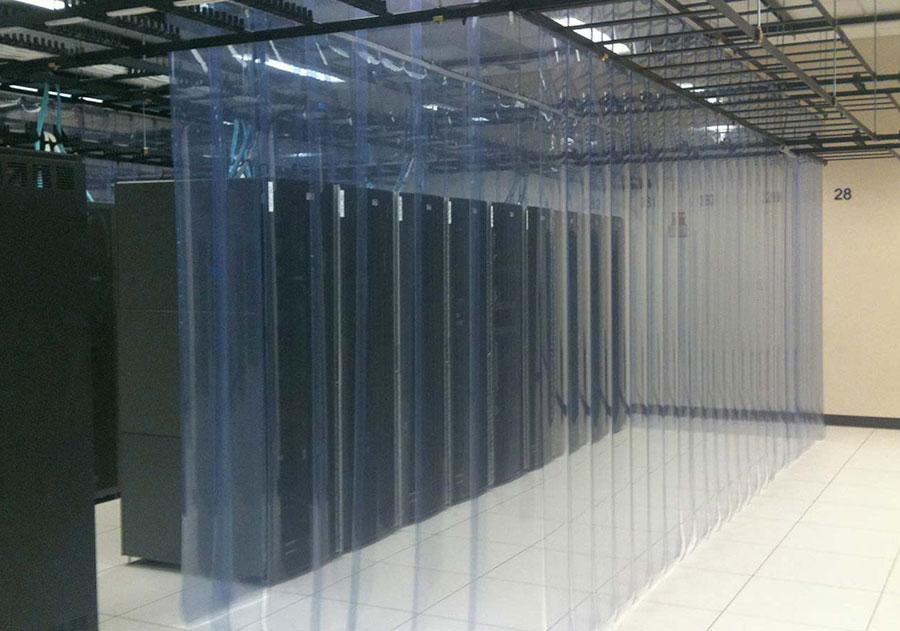 Future Trends for Data Centers and Aisle Containment
As data centers and their needs continue to grow, so will the methods used to improve efficiency. The next generation of containment solutions may implement a better plastic or more straightforward strip curtain design. Until then, the best solutions in hot and cold aisle containment use dual-curtain overlapping technology.
For more information or to receive a quick quote on hot or cold aisle containment solutions, strip door curtains, containment doors, or any other containment-related products, contact Data Center Resources today.
Contact Information:
866.740.2121
info@datacenterresources.com